Alleen online
Aanbieding!
Pakket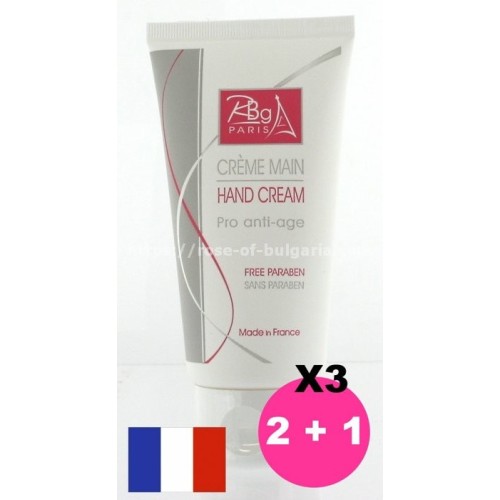  
Set of 3 hand cream anti age Rbg Paris
Lot of 2 + 1 free, hand creams Rbg Paris 50ml, Discount : 1 cream for free
Lot of 2 + 1 free, hand creams Rbg Paris 50ml, Discount : 1 cream for free
Paraben free, no animal testing, made in France.

The hand cream pro antiage, Rbg Paris (c), French manufacture, is enriched with the precious rose water distillated by steam from millions of petals manually collected of the rosa damascena, this hand cream is a true natural pro-care anti-aging. It gives a very smooth skin after application. With age coming, spots and stains on your beautiful hands can appear, this rose water hand cream get strong anti-oxydants, rose water, soy protein & glycerin, it prevents/avoids aging spots on hands.

Fast absorbing hand cream, improves the skin's tone and elasticity and keeps the hands beautiful and young-looking. 

Important to know : In normal using, you could touch a screen of one smart phone under 3 minutes, adapted to dynamic & working ladies.
Rose water rose damascena grown in the "Valley of Roses" in Bulgaria, this is the optimal region and conditions for the culture of roses, beyond its olfactory appeal has anti-aging and cell regenerative.
Hydrolyzed soy protein, thanks to its unique composition of essential nutrients, the natural & active anti-aging is well known also popular for its revitalizing and promote the renewal of cells.

Glycerin well known for its high moisture retention, glycerin has softening and emollient properties.

Vitamin E powerful antioxidant, vitamin E helps & prevents skin aging.
---
Clinical tests performed :
Stability and homogeneity cream, challenge test, tests of tolerance skin. No animal tests. formulation and testing, 100% French manufacturing, ingredients : rosewater damascena from Bulgaria (CONTROLLED origin). 
---
Technical informations :
---
Reference : Rob0021b
Best before (after open the jar, PAO) : 12 months
PARABEN FREE, rosa damascena water, steam distillation
Packaging : plastic tube of 50 ml capsule cap, cellophane stopper. Recyclable.

Scent : Rose couture

Color of the cream : Ultra white
Animal tested : No
How to use : Apply a small nut on each hand, to make penetrate the cream. Non-greasy effect.
Frequency : Everyday use, small size adapted to hand bags
Inci certificate : Available
Main effect : moisturizing of the hands, improvement of the elasticity of the skin, strong cellular regeneration by rosewater, prevents the wrinkles & againg spots

Made in France certified

Klanten die dit product aangeschaft hebben kochten ook...