Alleen online
Aanbieding!
Pakket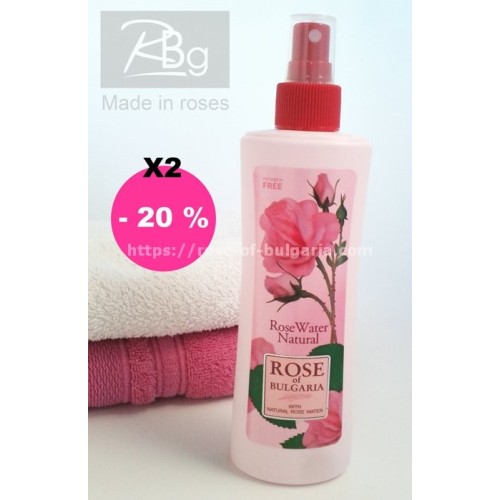  
Set of 2 rose water 230 ml spray
Set of 2 rosewater "rose of bulgaria" 230 ml spray. Discount - 20%
Set of 2 rosewater "rose of bulgaria" 230 ml spray. Discount - 20%
This rose water comes directly from the rose damascena p. Miller freshly picked manually, is made for people eager to use a 100% natural product to cleanse their skin. The bulgarian natural rosewater is obtained by only steam distillation (without solvent) of lot of flowers of the rose "Rosa DAMASCENA".

Very important, it contains no chemical preservative because it naturally contains a high content of ethyl alcohol obtained by the distillation itself. We put a preservative in tiny quantity to prevent microbes.

It has of course an anti-inflammatory, anti-allergic effect, allows to clean deeply the skin before the application of one of our rose of bulgaria/Rbg Paris creams, the scent of the rose released after evaporation of the alcohols leaves a delicate perfume and very soothing.

This water of rose also has a refreshing effect during high heat, application in this case need to be in spray directly on the face (avoid eyes).


More information :

1. Our rose water is natural and very concentrated, if it is too concentrated for you, you can dilute it with commercial mineral water and then use it normally in the Rob013b or Rob013c spray bottle.

2. This bottle can be recharged by unscrewing the pump with rose water Rob013 (because more economical to purchase).

3. Also available in spray and bio, click on the "tag" rose water.
---
Technical informations :
---
Reference : Rob0013b
Best before (PAO) : 12 months
PARABEN FREE, rosa damascena water, steam distillation
Packaging : plastic bottle of 230 ml with spray pump. Recyclable.
Scent : lightly woody rose water

Color : transparent like water, slightly yellow, pink following distillation batches

Animal tested : No
How to use the rose water : Care of the skin before to put rose cream, put the rose water on a cotton and apply on the face to degrease and deeply cleanse the skin, 2 applications if necessary.

Frequency : Everyday use
Inci certificate : Available
Main effect : Skin cleansing, natural rose water which also degreases the skin and refreshes.

Made in Bulgaria certified, Rose valley
Klanten die dit product aangeschaft hebben kochten ook...