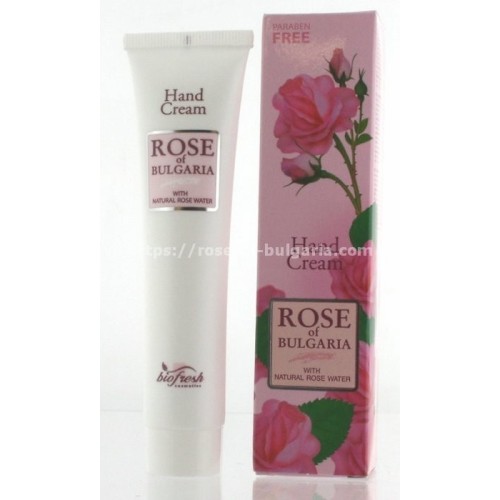  
Hand cream rosewater
This moisturizing rose hand cream, smooth and soft to the touch, contains natural rose water, an anti-bacterial and a formulation with soothing properties ...
It contains natural rose water with anti bacterial and soothing properties. Due to the almond oil, the glycerin, the marigold and rosemarine extracts, hand skin is intensively fed up, softened and protected from the injurious atmospheric influences.
This cream gives unique sensation for comfort and elasticity of the dry and depleted skin. 

Without PARABEN
---
Technical informations :
---
Reference : Rob0021
Best before (after open the jar, PAO) : 12 months
PARABEN FREE, rosa damascena water, steam distillation
Packaging : Plastic tube 75 ml screw cap, without operculum, carton box without cellophane. Recyclable.

Scent : Natural rose bouquet
Color of the cream : Ultra white
Animal tested : No
How to use :   Apply a small nut on each hand, to make penetrate the cream. It moisturizes the damaged hands

Frequency : every day (several times a day if necessary)
Inci certificate : Available
Main effect : moisturizing hands, improve the elasticity of the skin, cell regeneration with rose water.

Made in Bulgaria certified, Rose valley
Klanten die dit product aangeschaft hebben kochten ook...