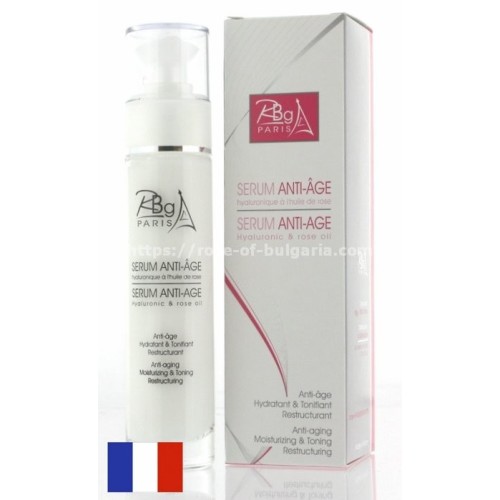  
Pack anti age rose oil collagen +
Pack of 2 anti age face cream with bulgarian rose oil, hyaluronic and collagen +, discount - 40%
Paraben free, no animal testing, made in France.

The Antiaging serum Hyaluronic & Rose oil, Rbg Paris (c), French manufacture, is enriched with the both precious rose water & rose oil distillated by steam from millions of petals manually collected of the rosa damascena, this smooth anti age serum is a true natural free parben pro-care anti-aging, soft lift effect, moisturizing & toning with hyaluronic formula.

This serum is also a deep skin restructuring, it contains a natural anti age as rose oil, collagen, natural marine elastin & Silanol (silicon restructuring). Our formula is developed with a tensor active and makes your skin smooth, tonic & well moisturized with the natural rose water.
Antiage cream hyaluronic & Rose oil is a combination of natural extracts of damascena rose oil & rose water, several plants, hyaluronic acid, collagen, marine elastin and silanol increase the deep moisturizing of the skin. After few days, the skin regains radiance & youth. Hyaluronic acid help to eliminate the old cells and natural collagen enhances active skin tension.

Water rosa Damascena, as well as the essential oil of Rosa Damacena, promotes hydration and accelerates the regeneration of cells. Rose water & rose oil of rose damascena grown in the "Valley of Roses" in Bulgaria, this is the optimal region and conditions for the culture of the best roses in this world, beyond its olfactory appeal has anti-aging and natural cell regenerative.

Natural Hydrolyzed Collagen : As the body gets older, our collagen levels naturally decrease. Hydrolyzed Collagen enhances active tension of the skin and repairs damaged skin cells, maintains a good level of hydration inside the cells.
Silanol (Silicon) : Silanol technology results in a family of cosmetic compounds in which all members share a core of organic silicium (silicon). The role of this organic silicium is to ensure an optimal skin architecture by interacting with structure proteins (collagen and elastin fibres) within the dermis tissue.


Hyaluronic Acid : Deep moisturizing & maintains the water balance of the skin.

Natural marin elastin : Tones, firms and renews skin elasticity naturally.
Vitamin E : a powerful natural anti-oxidant, vitamin E prevents skin also aging.


---
Clinical tests performed :
Stability and homogeneity cream, challenge test, tests of tolerance eyes and skin. No animal tests. Formulation and testing, 100% French manufacturing, ingredients : rosewater damascena and pure rosa damascena oil from Bulgaria (CONTROLLED origin).
Los clientes que adquirieron este producto también compraron: