Nur online erhältlich
Sonderpreis!
Artikelbündel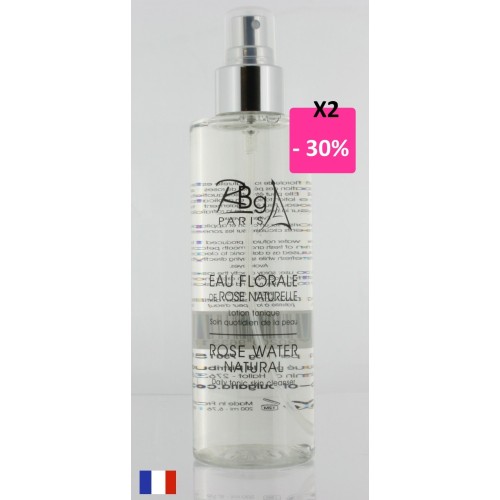  
Set of 2 rose water Rbg Paris 200 ml spray
Set of 2 rose water rbg Paris 200 ml spray. Discount - 30%
Set of 2 rose water rbg Paris 200 ml spray. Discount - 30%
Without paraben

This rose water is made from rosa damascena. P. Miller, is intended for people wishing to use products of quality, controlled and bottled in France and of natural origin.
 
This natural rose water is produced by natural steam distillation of rose petals freshly collected manually flower by flower. It does not contain chemical preservatives.
 
Main effects : Prepares skin for massage, anti inflammatory natural, anti-allergic. Hydrates and soothes irritated and sensitive skin. Anti-inflammatory, anti-allergic, cleanses the skin thoroughly before applying one of our creams to the rose, the smell of the rose released after evaporation of the alcohols leaves a delicate fragrance and very soothing.

This rosewater also has a refreshing effect during high heat, application in this case in spray with this bottle directly on the face by closing the eyes.


More information :

1. Our rose water is natural and very concentrated, if it is too concentrated for you, you can dilute it with commercial mineral water, and then use it normally in the spray bottle.

2. This bottle can be recharged by simply unscrewing the pump.
---
Technical informations :
---
Reference : Rob0013c
Best before (PAO) : 12 months
PARABEN FREE, rosa damascena water, steam distillation
Packaging : 200 ml plastic bottle, hood + spray, Recyclable.

Scent : lightly woody rose water

Color : clear as water, slightly yellow, dew following the batches of distillation

Animal tested : No
How to use :  Care of the skin before laying a rose cream, put the rose water on a cotton and apply against the face to degrease and deeply cleanse the skin, 2 applications if needed. In refreshing spray directly on the face avoiding the eyes.

Frequency : every day (morning and evening before laying a rose cream) or refreshing all day
Inci certificate : Available
Main effect : Skin cleansing, natural rose water which also de-greases the skin and refreshes.

Bulgarian rose, distillation in Bulgaria in the valley of the roses, analysis, control and bottling made in France.
Kunden, die diesen Artikel gekauft haben, kauften auch ...