Alleen online
Aanbieding!
Pakket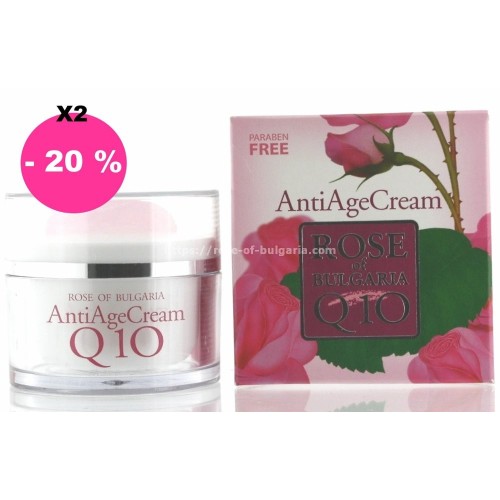  
Set of 2 Antiaging creams Q10
Set of 2 anti-aging creams Q10 50ml, Discount - 20%
Set of 2 anti-aging creams Q10 50ml, Discount - 20%
This face cream is a classic anti age but efficient through complex Q10.
Every skin needs special cares for keeping its elasticity, fresh complexion and it prevents the prematurely appearance of wrinkles.

The ingredients of the cream contains :
A dominant accent in the active ingredients of this cream Co-enzyme Q10 has, which improves the elasticity of the skin and visibly decreases the depth of the wrinkles, prevents it from the harmful influences of the environment, causing the premature aging. 
Biologically active complex, which actively soften and moisturizes the skin, leaving a feeling of comfort and mildness.
Rose water, included in the ingredients, which stimulate the regeneration and strengthen the preventive functions of the skin.
Shea tree oil – keeps the balance of the contents of greases and moisture in the skin, makes it visibly younger, strengthen the tissue and makes it tighter.
Vitamin E as a strong anti-oxidant, blocks the activity of the free radical, slows down the oxidizing processes in the cells, eliminates the dryness and the peeling of the skin. Also used as natural preservative of the cream.
Jojoba oil – it is unique in the whole flora. It creates a sustainable and elastic layer over the skin, which it nourishes and prevents from unfavorable influence, without hampering of its normal and vital activity. 
---
Technical informations :
---
Reference : Rob003
Best before (after open the jar, PAO) : 12 months
PARABEN FREE, rosa damascena water, steam distillation
Packaging : plastic jar 50 ml without operculum, paper box, no cellophan. Recyclable.
Scent : natural rose bouquet
Color of the cream : ultra white, no colorant
Animal tested : no
How to use :  take small nuts of cream in hands and apply with circular mouvements on face

Frequency : everyday use
Inci certificate : available
Main effect : deep hydratation of the skin, anti oxydation and regeneration of cells, improve elasticity of the skin.
Made in Bulgaria certified, Rose valley
Klanten die dit product aangeschaft hebben kochten ook...