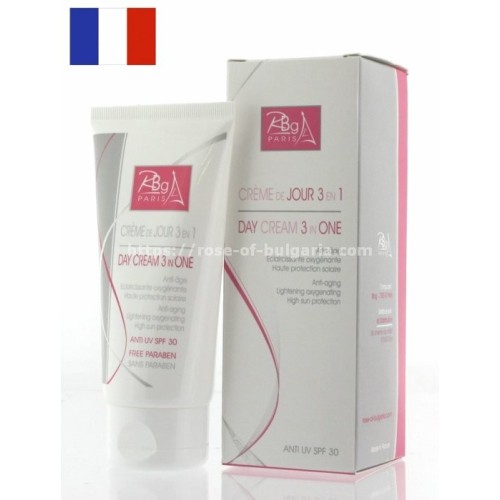  
3 complex lightening cream with rosewater
This anti-aging day cream, 3 functions in one application, enriched with precious damascena rose water, is a true anti-aging treatment, lightening, and protects from the solar rays SPF 30 with natural & mineral protection ...
Paraben free, no animal testing, made in France.

Anti-aging cream 3 in 1 anti-aging, lightening and sunscreen protection SPF30 is enriched with precious rosewater damascena, this day cream is a true 3 in 1 care anti-aging, brightening, and protective under UV sun SPF 30. Its delicate fragrance and its combination of natural extracts provide youth, radiance and protection throughout the day. This lightening cream can be used under sun shining without problem. Can be protect arms and hands also. Made in France.
Composition :
Rose water rose damascena grown in the "Valley of Roses" in Bulgaria, this is the optimal region and conditions for the culture of roses, beyond its olfactory appeal has anti-aging and cell regenerative.
This sunscreen cream is composed mainly of natural mineral filters. Non-allergenic tested, they are tolerated by sensitive skin. In addition, an organic filter is used in synergy for greater efficiency.
Kombuchka called "long life fungus" Kombuchka is a well-known drink in Russia and China, where it gives the virtues of longevity. Beyond its smoothing properties, it will also improve the quality of the skin giving shine &  reduce aging spots.
Beech bud extract, derived from the natural potential hidden in the buds of beech, this natural anti-aging is an effective response to skin aging.
---
Clinical tests performed : Stability and homogeneity cream, challenge test, tests of tolerance eyes and skin. No animal test. Formulation and testing, 100% French manufacturing, ingredients : rosewater damascena from Bulgaria (CONTROLLED origin).


---
Technical informations :
---
Reference : Rob0032b
Best before (after open the jar, PAO) : 9 months
PARABEN FREE, rosa damascena water, steam distillation
Packaging : plastic tube of 50 ml without operculum, paper box with cellophan. Recyclable.
Scent : Rose couture

Color of the cream : Ultra white
Animal tested : No
How to use :  Apply in small nuts on the areas to be treated, face, arms, hands and body, etc ...

Frequency : daily (morning or / and evening), as a day cream
Inci certificate : Available
Main effect :

Anti-aging function 1. intense hydration of the skin, treatment of wrinkles, anti-wrinkle by improvement of the tonicity of the skin, cell regeneration by rose water.

Lightening function 2. Correction of the complexion in a uniform way, prevents again spots, lighten the skin (time of result : Apply during 1 week) substituting your cream of day by the cream 3 in 1 of rbg Paris.

Sun protection function 3. Protects from sunlight. Protection class SPF30 tested & secured, not suitable for children or for prolonged exposure to the beach for example.

Made in France, certified
Klanten die dit product aangeschaft hebben kochten ook...