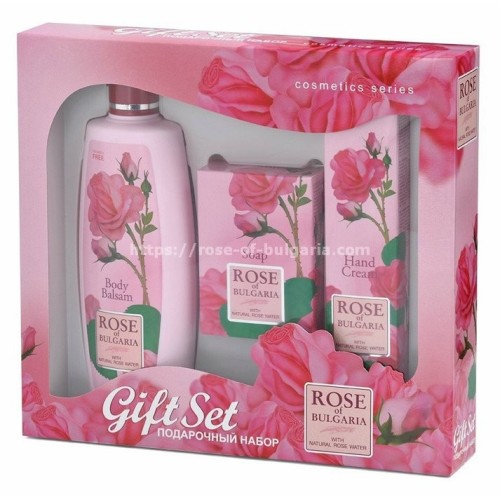  
Gift set 3 - Rose of bulgaria
Rose of Bulgaria "Original" gift set, contains 1 body balsam, 1 rose soap exfoliating, 1 hand cream ...
This gift set contains :


One body balsam Rose of bulgaria 330 ml

The body balsam is created on natural bases containing the unique bulgarian damask rose water with high contents of ether of rose oil.
It has anti-allergic and smoothening effect. It contains Vitamin E and rosemarine.
It hydrates and feeds up the skin intensively and lastingly making it soft, delicate and velvety sleek.



One rose soap rose of bulgaria 100 grs
Natural formula with 100% plant palm and coconut oil, without preservatives.
It contains delicate exfoliating small fractions from dry damascena rose flower of the Bulgarian oleaginous rose, with favorable relaxing fragrance.
It is enriched with glycerin, appropriate for delicate and sensitive skin.



One hand cream Rose of bulgaria 75 ml
It contains natural rose water with anti bacterial and soothing properties. Due to the almond oil, the glycerin, the marigold and rosemarine extracts, hand skin is intensively fed up, softened and protected from the injurious atmospheric influences.
This cream gives unique sensation for comfort and elasticity of the dry and depleted skin.

Without PARABEN
Customers who bought this product also bought: