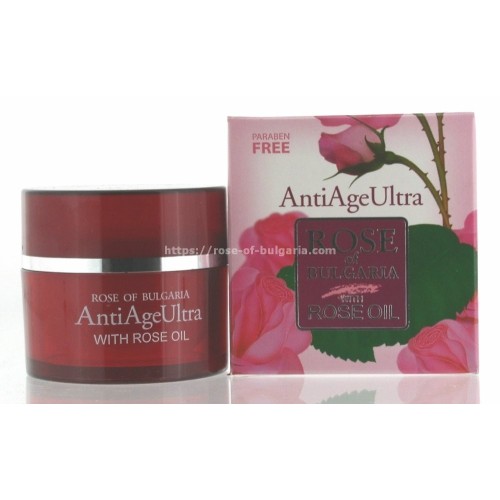  
Anti age cream ULTRA with roseoil
This rose face cream slows down the process of skin aging, regenerates and moisturizes, leaving skin radiant and refreshed. It contains pure rose oil & rose water ...
WARNING : This cream is identical in wording to the classic anti-aging cream No. 3 "rose-of-bulgaria" but we have added pure rose oil & rosewater.
This cream is natural, it contains no artificial fragrances, colours or other conventional preservatives.
Bulgarian rose oil is the most precious, expensive and difficultly derived essential oil in nature. Because of its property to stabilize cell walls, it is among the major means to affect stressed, irritated and aging skin.
The special cream formula, containing pure bioactive essential rose oil, revitalizes and replenishes skin with vital energy. Combined with Q10, Vitamin and natural plant extras, it slows down the process of skin aging, regenerates and moisturizes, leaving skin radiant and refreshed.
Each skin needs special care to maintain its balance, in order to maintain its elasticity and prevent the premature appearance of wrinkles.
This cream specially formulated for sensitive skin contains :

- a complex Co-enzyme Q10 that improves the tone, the elasticity of the skin and visibly reduces the depth of the wrinkles.

- natural active complexes, which activate the surface exchanges of the skin allowing a better hydration.
 
- rose oil & rose water, which stimulate cellular regeneration, reinforces the vital functions of the skin, naturally slows down the aging process, regenerates and moisturizes the skin, leaving radiant, cooler skin More tonic.
 
- the essential oil of the shea tree, which maintains the balance between fat and water in the skin, the cells are reinforced which makes the skin more toned.

- Vitamin E used as a powerful anti-oxidant, blocks the activity of free radicals, slows down the oxidation process of the cells and eliminates the dryness of the skin. Also used as natural preservative of the cream.

- jojoba oil, unique, it penetrates the several layers of the skin ensuring a firm appearance, it nourishes and protects against bad weather.
---
Technical informations :
---
Reference : Rob005
Best before (after open the jar, PAO) : 12 months
PARABEN FREE, rosa damascena water & roseoil, steam distillation
Packaging : plastic jar 50 ml without operculum, paper box, no cellophan. Recyclable.
Scent : Rose oil

Color of the cream : Ultra white
Animal tested : No
How to use :  Take small nuts of cream in hands and apply with circular mouvements on face

Frequency : Everyday use
Inci certificate : Available
Main effect : Moisturizing the skin, anti-wrinkle by improving skin tone, cell regeneration enhanced by rose oil.
Made in Bulgaria certified, Rose valley
Klanten die dit product aangeschaft hebben kochten ook...