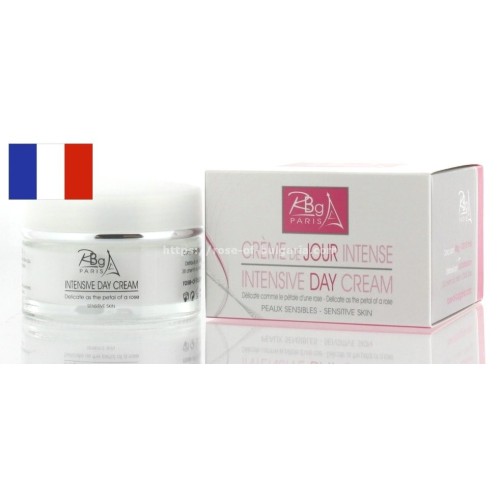  
Intensive day cream with rose water
The intense day cream from Rbg Paris is made in France, is enriched with precious damascena rose water from Bulgaria, this day cream is a real anti-aging treatment that smooths the skin and restores structure to the face in everyday life  ...
Paraben free, no animal testing, made in France.

The intensive day cream, Rbg Paris (c), French manufacture, is enriched with the precious rose water distillated by steam from millions of petals manually collected of the rosa damascena, this day cream is a true natural pro-care anti-aging. It gives a very smooth skin after application and gives structure to the face.

Intensive day cream and its combination of natural extracts provide softness and unification complexion. The skin regains radiance and suppleness, and radiates well-being.
Composition :
Rose water rose damascena grown in the "Valley of Roses" in Bulgaria, this is the optimal region and conditions for the culture of roses, beyond its olfactory appeal has anti-aging and cell regenerative.
Argan oil, naturally rich in omega 6 and vitamin E, argan oil effectively fights against aging, nourishes and regenerates the skin.
Kombuchka called "long life fungus" Kombuchka is a well-known drink in Russia and China, where it gives the virtues of longevity. Beyond its smoothing properties, it will also improve the quality of the skin giving shine.
Extract of fruit acids, AHAs or fruit acids are well-known to fade pigmentation defects without damaging the skin. They also have an ability to stimulate the production of collagen.
Vitamin E, a powerful natural anti-oxidant, vitamin E prevents skin aging.
---
Clinical tests performed : Stability and homogeneity cream, challenge test, tests of tolerance eyes and skin. No animal tests. Formulation and testing, 100% French manufacturing, ingredients : rosewater damascena from Bulgaria (CONTROLLED origin).
---
Technical informations :
---
Reference : Rob0011b
Best before (after open the jar, PAO) : 3 months
PARABEN FREE, rosa damascena water, steam distillation
Packaging : glass jar 50 ml with operculum, paper box with cellophan. Recyclable.
Scent : Rose couture

Color of the cream : Ultra white
Animal tested : No
How to use :  Take small nuts of cream in hands and apply with circular mouvements on face or neck

Frequency : Everyday use
Inci certificate : Available
Main effect : intense mosturizing of the skin, improves the tone and elasticity of the skin in daily care. Color correction function

Made in France, certified

Klanten die dit product aangeschaft hebben kochten ook...