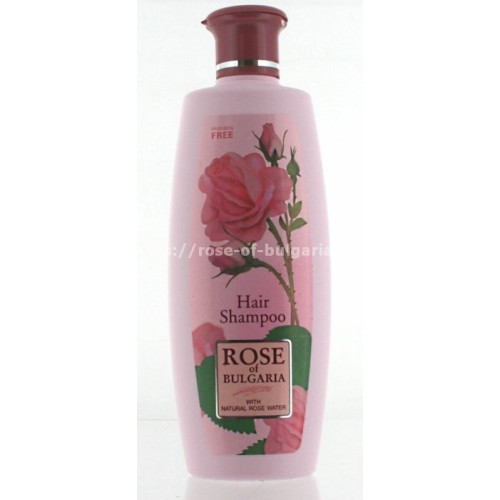  
Rosewater hair shampoo
This Bulgarian rose water shampoo has been especially created for sensitive hair ...
The natural damask rose water with high contents of ether of rose oil is a unique component in this specially created shampoo.
It has antibacterial properties, cleans, refreshes and gives life to hair.
It contains D- panthenol that feeds up and hydrates hair, making it shiny and soft.
---
Technical informations :
---
Reference : Rob0016
Best before (after open the jar, PAO) : 12 months
PARABEN FREE, rosa damascena water, steam distillation
Packaging : plastic bottle of 330 ml with easy opening cap. Recyclable.

Scent : Natural rose bouquet
Color : Slightly pink, not transparent

Animal tested : No
How to use :  Apply in the hair using the hands after wetting the hair, 2 applications if needed.

Frequency : every 2 days (morning or evening)
Inci certificate : Available
Main effect : Hair cleaning (antibacterial function), nourishes and moisturizes.

Made in Bulgaria certified, Rose valley
Klanten die dit product aangeschaft hebben kochten ook...