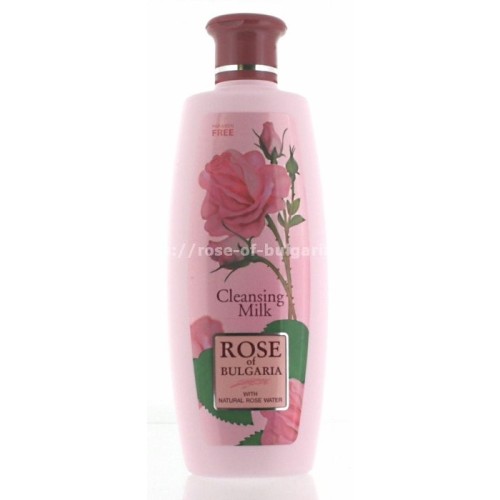  
Cleansing milk rosewater
Soft and tender bulgarian damask rosewater milk for facial cares & neck, skin cleansing and feeding up ...
Soft and tender milk for facial and neck skin cleansing and feeding up.
Its most important component is the bulgarian rose water with high contents of ether rose oil. It has an anti inflammatory, softening and tonic effect.
It improves the skin hydration, restores its freshness, cleanness and elasticity. Appropriate for all skin types.
More information :

1. For complete make-up removal, please use our "demakup" Rob072b wipes before protocol 2. below.

2. You can clean your face and neck with rose water and then do a second cleansing with this face milk to help to nourish and hydrate your skin before to apply one of our rose cream.
---
Technical informations :
---
Reference : Rob0014
Best before (after open the jar, PAO) : 12 months
PARABEN FREE, rosa damascena water, steam distillation
Packaging : Plastic bottle of 330 ml with easy opening cap, Recyclable

Scent : Natural rose bouquet
Color of the cream : Ultra white
Animal tested : No
How to use :  Care of the skin before laying a rose cream, Put milk on a cotton and apply on the face or other part of the body, neck, to clean in depth, 2 applications if necessary. Can be combined with a damask bulgarian rose water before.

Frequency : every day (morning and evening before laying a rose cream)
Inci certificate : Available
Main effect : Cleansing the skin and neck, moisturizing milk, to demakeup please use the wipes Rob0072b

Made in Bulgaria certified, Rose valley
Los clientes que adquirieron este producto también compraron: