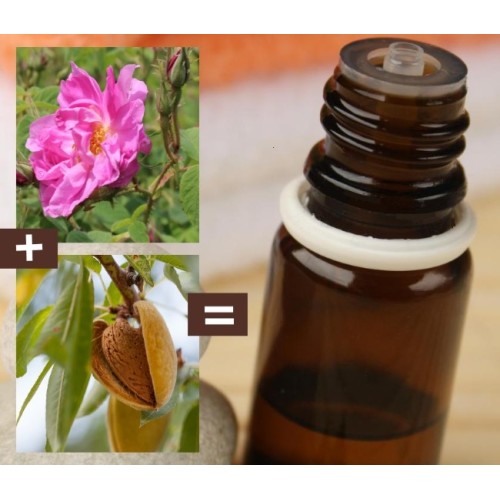  
Mixed bulgarian roseoil - 20ml
Damascena rose oil of Bulgaria mixed with a sweet almond oil of French manufacture. This mixture is practical because ready to use, you can apply it directly on the face without fear of the slightest tingling, also the hands, the bust and the body ...
Mixed damask rose oil with almond oil (Ready to use on the skin) : 20 ml.
Contains :
16 drops of pure damask rose oil - 0.8 ml and 19.2 ml of almond oil
This mixed oil is ready to use directly on face, hand and body sensitive skin. Can be applied during the night for regenerating cells. This product is totally natural and free of additives. Paraben free.
---
Damask rose oil, precious and pure in a glass bottle amber equipped with a dropper and a label with number of batch corresponding to the certificate.
Origin : Bulgaria, guaranty with a certificate.
Extraction Process : The essential oil is obtained by steam distillation of fresh rose petals.
Common named : Rose otto.
Description of fragrance : Fragrance higher. Deep rich sweet floral fragrance.
---
Almond oil, pure oil of almond trees from France, nourish strongly the skin and make your skin smooth, almond oil is used also to remove black spots and black marks on the skin.

Origin : France.
Extraction Process : Oil press.
Common named : Prunus dulcis.
Description of fragrance : Neutral.
---
Skin Care : Mature skin, sensitive, wrinkled (prevent wrinkles). Provides a feeling of well-being and happiness when used in massage. Great to use while working for massaging the lower back. We love or hate the Rose oil, but the effect is to regenerate the cells on skin faster. If you like the rose that will probably be your favorite perfume among all oils.
This product contains no additives.
Safety Considerations :
Rose oil is an active substance, so,
Do not take essential oils internally.
Do not apply to eyes, sensitive areas or mucous membranes.
Do not apply undiluted to skin (for directions on proper dilution refer to an aromatherapy text). The information on this website is not intended to diagnose or prescribe.
Pregnant women, nursing mothers and children should not use essential oils without first consulting an appropriately trained healthcare practitioner.
---
Note ++ :
Therapeutic benefits of the green virgin almond oil
Sweet almonds are high in vitamins A, B1, B2, B3, B5, B6, B9, E and K, along with thiamine, riboflavin, niacin, calcium, iron, magnesium, manganese, phosphorus, potassium, sodium and zinc. It is a powerful antioxidant. Health benefits linked to the regular use of sweet almond oil include regulating blood pressure, maintaining cholesterol levels, boosting immunity, relieving pain and stress on muscles, reducing inflammation and itching and enhancing blood circulation, to name just a few.
Sweet almond oil is an emollient thereby allowing the external layers of the skin (epidermis) to become softer and more pliable providing an greater overall complexion and tone to your skin.
Truly a therapeutic, beneficial and essential pure and natural mineral to use regularly in order to achieve and maintain better health.
Kunden, die diesen Artikel gekauft haben, kauften auch ...