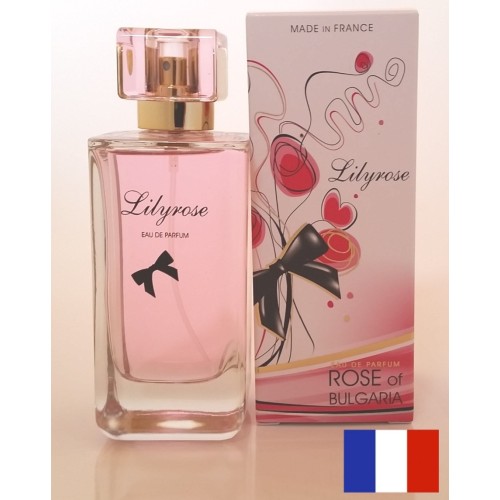  
Lilyrose 100 ml - x2
Pack of 2 Lilyrose 100 ml - Discount - 40%
Pack of 2 Lilyrose 100 ml - Discount - 40%
The Lilyrose perfume, 100 ml, is a french manufacture from the brand Rbg alias PARIS ROSE OF BULGARIA, PARIS. Lilyrose classic is an "eau de parfum", star of the brand, high-class perfume subtle dosed at 15%, this perfume based notes from the rose mixed gently to some other typical south France flowers, with a Vanilla heart note, well designed packaging as French touch design. shall it touch the deep heart of men while discrete ladies will move in their active urban lifes.
Lilyrose is a proove of delicatness and smoothy as rose petal can be, you love it or you hate it, but let you in deep thought always. We do not need to convince you try it and you will be seduced by this so sensitive & emotional scent.

Notes : Floral vanilla
Fragrance notes : Vanilla, bulgarian rose damascena, passion fruit and jasmin sambac

Stay on you for the day guaranty 15 % high class quality fragrances, All exclusively made in France. All the finest of France in it by Rbg Paris.
Customers who bought this product also bought: