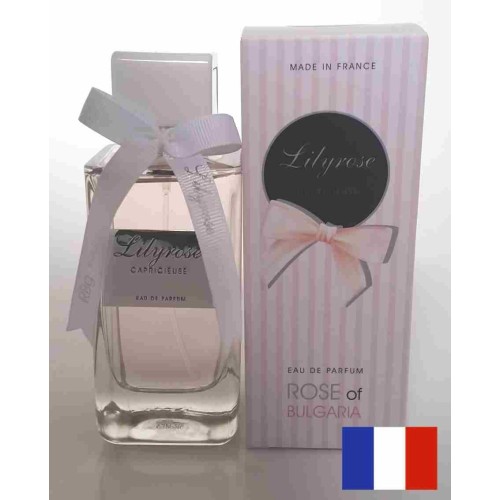  
Lilyrose capricious eau de parfum
Fragrance notes : bergamot, jasmine, rose damascena p. miller Bulgaria, iris and amber
The new fragrance Lilyrose 'capricieuse" (capricious), 100 ml, is a french manufacture by Rbg PARIS brand alias ROSE OF BULGARIA, PARIS and was developed by a great master nose of the french perfumery.
Lilyrose Capricious is a fragrance of very high class dosed at 18% which is comparable to major big brands in this world, the top note of Bergamot, leaves fastly appear heart notes of bulgarian rose, reinforced by geranium, amber and iris.
The packaging is sleek and very stylish. Ideal for a wonderful gift.
This fragrance is very sensual, a very rare nobility and invites to "french kisses" & passion of love.
Fragrance notes : bergamot, jasmine, rose damascena p. miller Bulgaria, iris and amber

Stay on you for the day guaranty 18 % high class quality fragrances, All exclusively made in France. All the finest of France in it by Rbg Paris.
Kunden, die diesen Artikel gekauft haben, kauften auch ...